<  
Back to previous page
Replace Audio in Video File
A simple app to replace the audio in a video file. Now including a deck and shortcuts.
**NEW in v2.0: **
You can now change parameters, select the audio/video file and export via shortcuts or with buttons on a deck. Deck included: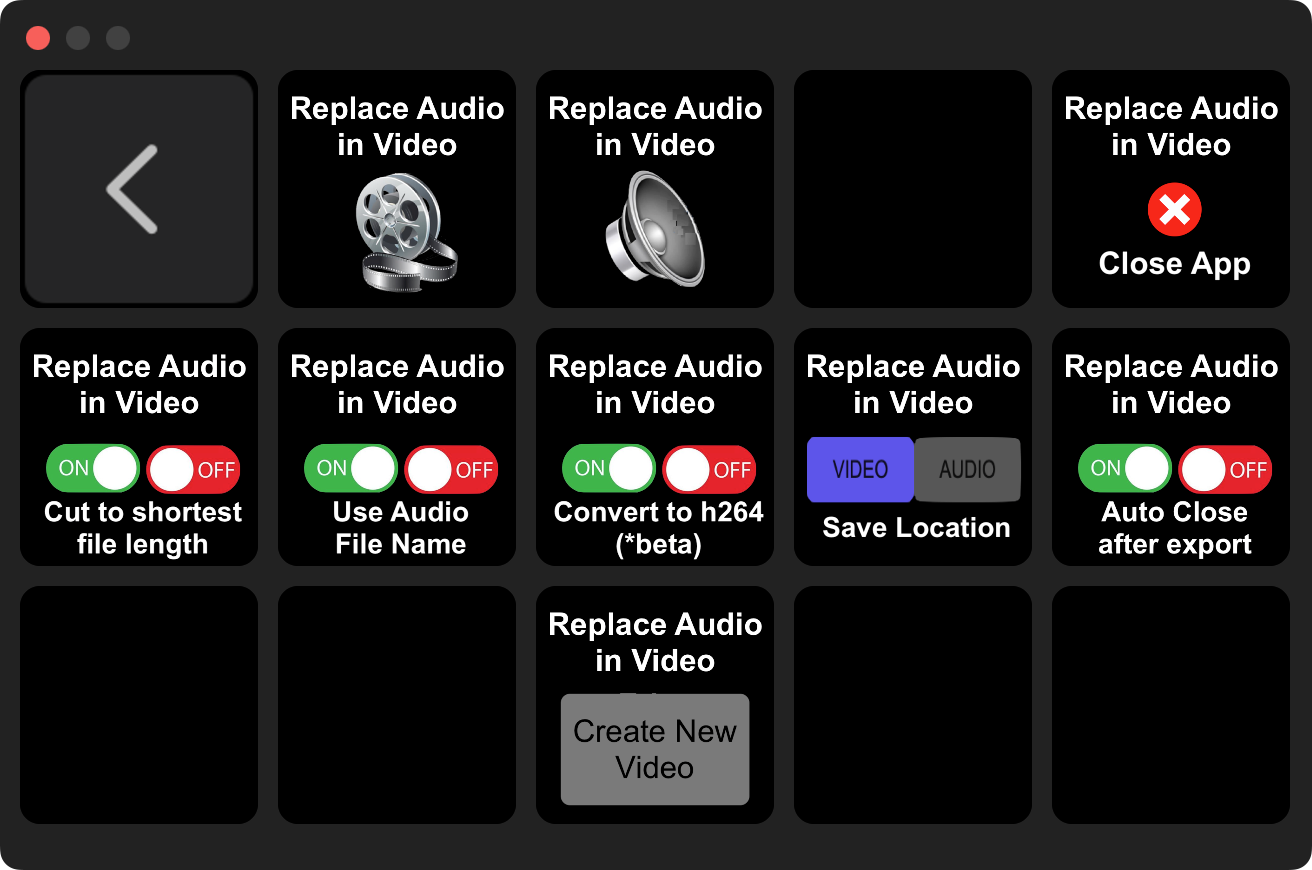 ****
Replace Audio in Video File
Will create a new video file with the added name "_NewAudio" at the same distination as the original video file (unless Use Audio File Name is on, then the name from the audio file will be used).
OPTIONS:
Cut the exported video file to the length of the shortest file between the original video file and the audio file.

Use audio file name.

Close the app after export

Convert to h264 [BETA, if you experience problems please report them]

Select wether the new video should be placed in the audio or video location.
Option settings will be remember from last time you used the app.
FILE SELECTION:
You can select files via a popup window or from what is currently selected in finder. The app will automatically select the first selected video file or audio file using it's respective buttons.
**SUPPORTED FILE TYPES: **
The exported file format is currently a .mov file as this support most formats. But the app will not encode the audio or video file.
Currently supported video types: mov, mp4, m4a, 3gp, 3g2, mj2, MP4, MXF.
Currently supported audio types: wav, aif, mp3, m4a, aac.
If you want other formats that are not shown above please write in on the package forum page, and I can add more formats.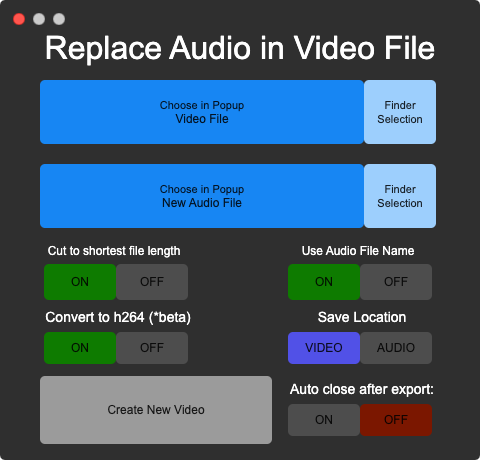 How do I get Replace Audio in Video File?
Replace Audio in Video File  is a package built on the SoundFlow platform. To get it, please follow these steps:
Sign up as a new SoundFlow user if you don't already have an account.

Install the SoundFlow app on your Mac.

Open up the SoundFlow app, click the "Store" tab

Locate the 'Replace Audio in Video File' package by searching in the search field.

Click the Install button.