Be more creative.
Stop clicking.
Automate tedious tasks
with macros & shortcuts for Pro Tools
and other DAWs.
Design your own

touch surfaces
for iOS, Android and macOS.
Get access to thousands of macros,
scripts, decks & surfaces – made by our users.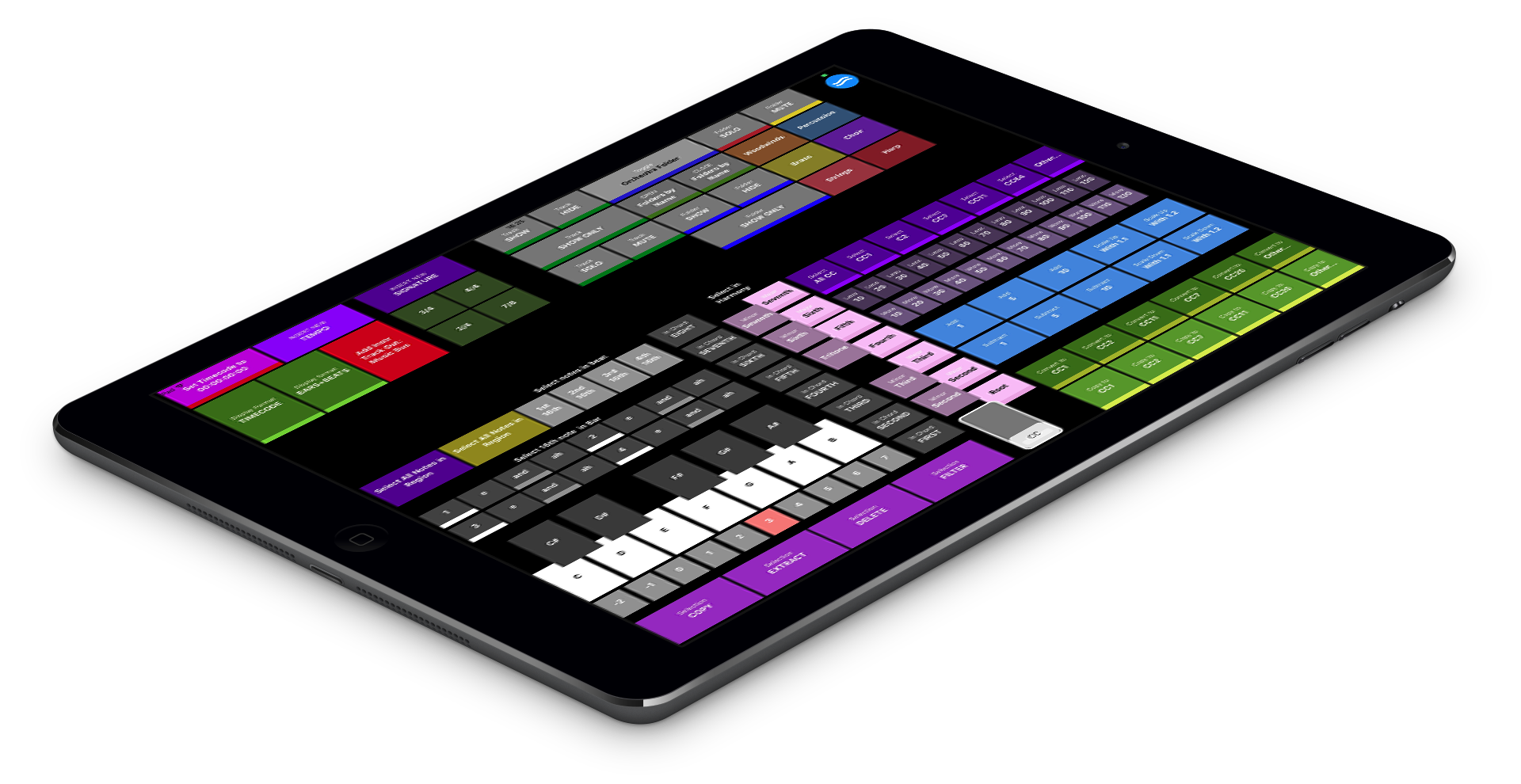 Join the revolution.
SoundFlow is the new standard for creative professionals.
A world class workflow platform for the 21st century.
Get more time to be creative.

Andrew Scheps
Grammy-award winning mixing engineer, producer & musician – has worked with artists like Adele, Red Hot Chili Peppers, Metallica, Jay-Z, Stevie Wonder and Michael Jackson.
SoundFlow has been nothing short of life changing for me. I have Pro Tools working for me now!
I'm a bit late coming to SoundFlow, and I regret every minute before I got it. It's easy to do the high level scripting that's possible in other apps, but it goes so much further and deeper!
I have Pro Tools doing things automatically that I never could have scripted before. The deep level of integration with Pro Tools itself, as well as the native drivers for Stream Deck, make it a ridiculously powerful platform. The ability to slap together a macro in no time, and then convert it to a script to go nuts with the details makes it so flexible and powerful.
And that's not even talking about surfaces! I've already developed several apps that have solved problems and enhanced functionality in ways that are impossible with any other tool I've used (and believe me I've tried). On top of all of that, the camaraderie in the forums and the ability to get other people's scripts (and post your own) in the Store make it a huge resource and a fantastic community.
Want to get started for free?
Start your

free

30-day trial now
Get control at your fingertips
Stop mouse clicking. Start controlling. Stream Deck, Xkeys, MIDI, Keyboard.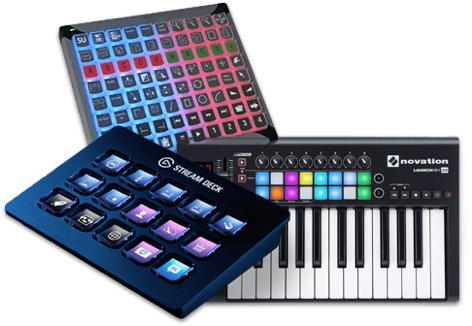 Create your own macros
Drag and drop via our intuitive macro editor. Create your own workflows in seconds.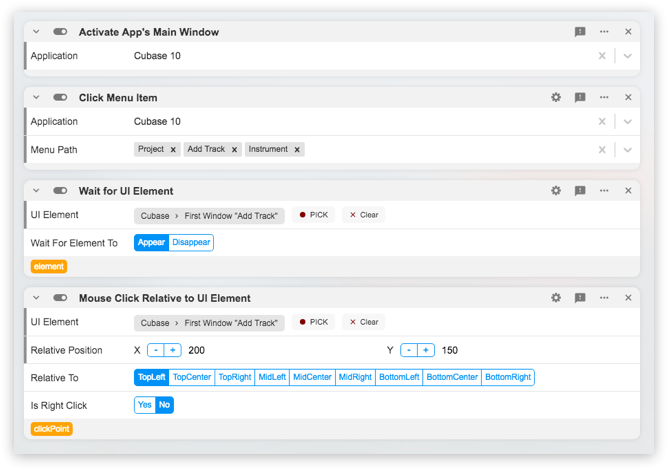 Upload your mixes to clients
directly from Pro Tools
Jonathan Wales
Emmy-, Golden Reel- and HPA award-winning re-recording mixer – has worked on hundreds of films, including Get Out, Memento, Doctor Sleep and The Haunting of Hill House.
SoundFlow has quite literally revolutionized my relationship with Pro Tools.
The impact on tasks which used to require a lot of mouse clicking is huge. Now I find myself doing the right thing, not just the easy thing. I can accomplish so much more in the same period of time - and with much less physical stress and strain.
The new direct integration with Stream Deck makes text much more legible and the interactions are much faster. I don't want to even consider using Pro Tools without SoundFlow anymore.
Simon Franglen
Grammy-award winning composer of classical and film music, former record producer and musician. Received Golden Globe and Grammy nominations for the theme song for Avatar, is the composer of upcoming Avatar 2 and 3, and has worked on films like Se7en, The Amazing Spider-Man, The Magnificent Seven, and arranged music for Skyfall and Spectre.
I value my time. I value my headspace. I'd rather be composing than clicking a mouse or trying to find something in a menu. If you value your time, SoundFlow is essential.
A quick example:
I wrote a script to allow me to add chords into Pro Tools in 5 seconds by typing the chord in English, instead of the 20 seconds it normally took to select a right click box, then choose three different options from three different dropdown menus. This script alone saves me 10 minutes across a long cue.
I have scripts that map all my quantize / grid / nudge values to an Android surface and also map these to key commands that mimic Sibelius on the qwerty keyboard. I have scripts that copy track names from Pro Tools and create matching Kontakt instruments inside Vienna Ensemble Pro automatically. I have custom surfaces that have all the Cip Gain / Clip Effects and custom presets mapped out on them for quick vocal editing.
SoundFlow easily saves me 30 minutes a day. It costs me two cappuccinos a month. I think that's a bargain.
Steve Bissinger
Golden Reel-winning and Emmy-nominated sound effects editor – has worked on shows & films like House of Cards, Mindhunter, Ad Astra, Transformers and The Incredibles 2.
Nothing has done more to optimize and customize my workflow in Pro Tools – and in the entire Mac environment – than SoundFlow.
It gives me control over features in Pro Tools that were previously difficult or impossible to access and I can execute complex processes in a few seconds that might take me hours to do.
The Stream Deck integration allows the exact commands I need for any specific app or window to appear dynamically as I need them, so no diving through menus. It really does feel like I can flow better creatively, because SoundFlow enables so much of what I do every day to happen so quickly and easily.
Jesper Ankarfeldt
Award-winning Film Composer and multi-instrumentalist, Jesper Ankarfeldt has a wide array of credits within film and TV
SoundFlow is the workflow power hub which I run almost all my hardware and computer programs through.
This integrates everything into a streamlined workflow which is not just making me faster when I write music or have to deliver with a short deadline, but also allows me to stay focused and inspired and create new ways of approaching the way I write music. Currently, SoundFlow controls 12 different pieces of hardware, including StreamDecks, touchscreens, rotors, tablets, mouse and MIDI devices. SoundFlow also connects multiple programs for me such as Nuendo, Vienna Ensemble Pro, Finder and various plugins.
It's hard for me to imagine having to work without SoundFlow as it does so many things automatically for me now, saving me countless hours and creating more headspace for creativity.

20-50% workflow improvement*
Our users say they work 20-30% faster every day.
Some tasks are even cut in half.
Made by a sound designer for sound designers & composers
I made SoundFlow because I was tired of having to click small buttons every single day. It didn't feel intuitive. It constantly blocked my creative process to have to use the mouse for almost everything, taking my focus away from the film or the music. SoundFlow helps me stay focused.
But one thing was to have this tool that helped myself. I decided I wanted to share it, I wanted to create a global community for creative professionals who want to work smarter instead of harder. So I spent nearly 3 years making this into a product.
Now my hope is that it will help others as much as it has helped me.
Christian Munk Scheuer
Founder of SoundFlow, Sound Designer & Composer
Design your own cross-platform UI in real time
Drag and drop a button or a fader. Connect it to a SoundFlow command.
Now you have built a macOS, iOS + Android app*
Check Out Our App & Surface Designer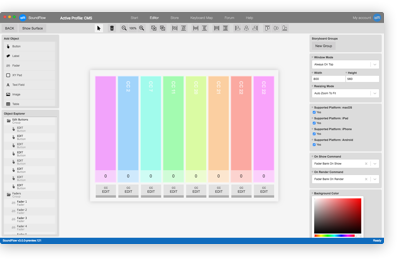 Go deep with Javascript
Want access to the underlying SoundFlow APIs? Our built in code editor gives you full control.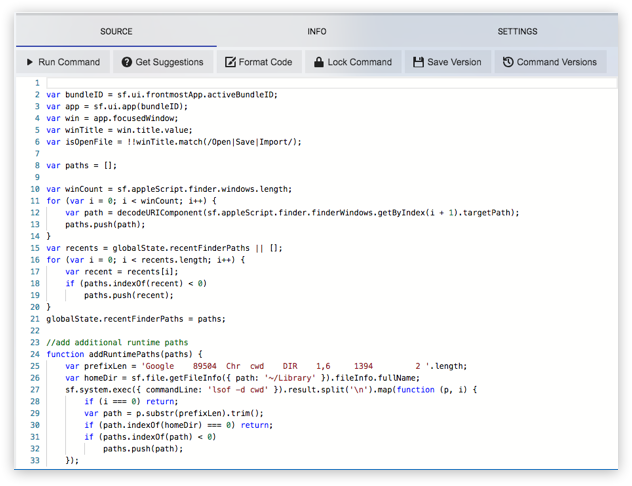 "It changed my life completely. I find myself finishing my work 1 hour earlier than before 🙂"
Dario Ramaglia, Dialogue Editor & Re-recording Mixer, Italy
"Love your program, it has changed my life. I tell all my post friends about it!"
Sean Higgins, Los Angeles
What's it worth to you?
Some say that time is the most valuable thing we have.
How do you value your time?
If we can make you work just 20% faster, how do you want to use that extra time? Would you spend $5 - $10 every month to get back 7-10 hours every week? Hours you could use to.. be with your loved ones, be more creative, work some extra jobs, or just.. go out in the sun?
I believe that SoundFlow is a good investment for any creative person. Because what you get back is time! Even if you only save 5 hours of work in a month - that's still easily worth paying $5 for.
For your subscription, we pledge to continue to develop the platform, to continually update our integrations whenever there's a new version of Pro Tools or Cubase or any of the other apps we support - and you get all of our updates included. No sudden upgrade costs or hidden fees.
We hope you'll join us as a SoundFlow user!
Ready to get started?
Start your free 30-day trial now